Water Damage Restoration in Temecula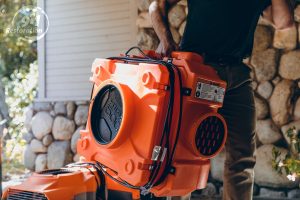 A water damage emergency cannot wait. Whether you've had a pipe burst or a ceiling leak, you need help now. Fortunately, 911 Restoration of Temecula is here for you 24 hours a day, 7 days a week, 365 days a year.
Our IICRC-certified flood cleanup crew guarantees an arrival time of 45 minutes or less. They understand how urgent your situation is, and they work swiftly to minimize your damage and get you back on your feet.
In addition to providing speedy water removal, our crew focuses on giving you a Fresh Start after water damage. They come prepared to handle any structural problems that occur as a result of your pipe burst or flooded basement. This includes drywall replacement, roof repair, and carpet removal. They even inspect for mold and handle mold remediation in Temecula themselves. The flood cleanup technicians at 911 Restoration are extensively trained to handle any eventuality.
We provide comprehensive water damage restoration in Temecula, Murrieta, Menifee, and the wider region. We serve both residential and commercial properties. Our business is licensed, insured, bonded, and locally owned and operated. To our staff, you're much more than a customer. You're a neighbor who deserves our full attention and genuine compassion.
Our water damage restoration team understands how overwhelming a flooded basement or similar crisis can be. We work hard to provide answers before you even ask. Request a free visual inspection (for property owners only). We'll take a look at your situation and explain your options in clear, honest terms. Our flood cleanup experts also offer a free insurance consultation. With their help, you understand exactly which services your provider pays for. Then, let us help you with inventory and loss itemization, claim filing, and direct billing.
A water damage emergency feels like the end of the world, but with 911 Restoration, this is your chance for a new beginning. Call 911 Restoration of Temecula today.
24 Hour Emergency Flood Cleanup in Temecula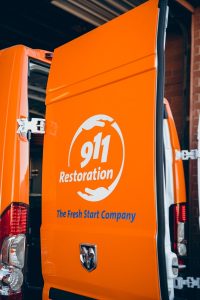 Our water removal workers don't waste a second when it comes to getting moisture off your property. Between their 24-hour availability and 45-minute response time, you can trust this team for the urgency you deserve.
Immediate water removal helps you avoid a wide range of potential damages. As water stands on your property, it seeps into the structure. Over time, this saturation can cause weakness, rotting, warping, and even mold development. The worse your damages are, the more expensive your recovery will be. Our goal at 911 Restoration is to minimize destruction and costs.
This begins by packing out and storing any at-risk belongings. We want to make sure any items that survived your flooded basement or pipe burst remain safe during water damage restoration.
Then, the flood cleanup crew determines the best strategy to dry your space quickly. They handle any emergency service you could possibly require, including:
Roof repair
Storm repair
Boarding up
Leak detection
Water removal
Sewage Extraction
And much more
As soon as our experts have stopped the flow of water and eliminated all standing moisture, they bring in professional fans. These heavy-duty blowers dry the structure of your home or business to its core, preventing additional damages.
Our water damage restoration Temecula crew handles every step of this process with focus and speed. They work hard to prevent damage. In the event that your water damage is so extensive that destruction is unavoidable, our workers handle repairs themselves. They do everything necessary to give you a Fresh Start.
If you're reeling from water damage in Temecula, San Jacinto, or the surrounding area, call the company that takes your situation as seriously as you do. Call 911 Restoration today.
Full-Service Water Damage Repair and Mold Removal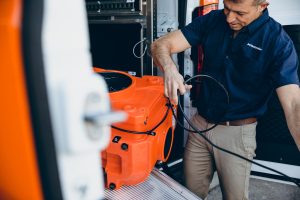 At 911 Restoration of Temecula, we care about far more than water removal. We want to turn your flooded basement or pipe burst disaster into an opportunity for a Fresh Start.
Our flood cleanup crew is trained in all aspects of property restoration. After they've removed all water from your property, they conduct structural testing to ensure your building is still sound. If they discover any issues, they repair or replace the compromised material. It doesn't matter if you need a new roof or have to get rid of a mold-infested carpet. Our experts are on it.
The water damage restoration crew also conducts a full mold inspection to ensure no fungus has formed in the affected area. Mold is extremely common after a water damage incident, especially in the case of a flooded basement. Indoor mold can pose a serious threat to both your property and your health. Our flood cleanup crew does all they can to eliminate this threat. They even handle black mold removal with the utmost caution, preventing the spread of mycotoxins throughout your property.
In the end, you can enjoy a home or business that feels brand new. Your property flood seems like a distant memory.
Call Restoration 911 of Temecula for the comprehensive service you deserve.
Serving the communities of Hemet, Homeland, Lake Elsinore, Menifee, Murrieta, Quail Valley, San Jacinto, Sun City,Temecula, Wildomar and surrounding area.