Water Damage and Mold Removal in San Jacinto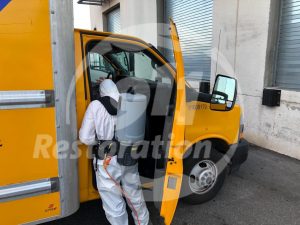 Whether you've had a pipe burst, property fire, or mold contamination, you will get through this. Just call 911 Restoration of Temecula.
We guarantee a 45 minute arrival time and 24/7 availability. No matter when disaster strikes, we're here for you. Our highly trained technicians do everything it takes to make your property new again.
911 Restoration serves both homes and businesses with water damage restoration, mold removal, and fire restoration in San Jacinto and beyond. As a locally owned and operated business, we're proud to offer top quality service to our neighbors in need. We accept all forms of insurance and work diligently to preserve the properties that make our community beautiful.
We operate according to the Fresh Start philosophy. When you present our flood cleanup and fire damage restoration techs with a disaster, they see it as an opportunity to rebuild, better than ever. Our IICRC certified staff has completed rigorous training to ensure they can handle every phase of restoration. From smoke removal to drywall repair, our experts do it all. You never have to deal with additional contractors.
911 Restoration of Temecula is run with a spirit of compassion. We know how overwhelming it is to deal with a pipe burst, flooded basement, or puffback. Our technicians do all they can to put your mind at ease with excellence service and regular communication. 
If the path to recovery seems uncertain, allow us to offer a free visual inspection (for property owners only). We take a look at your water, mold, or fire damage and go over your options. There is no charge and no obligation to hire us. We simply want to provide the information you need to make the best decision for your home or business.
If you're confused by your insurance coverage, we help you sort it out. An expert on staff provides a free insurance consultation and helps you navigate the process of filing a claim.
Whether you need water damage restoration, mold removal, or fire damage repair, you don't have to do this alone. 911 Restoration of Temecula is here for you 24/7/365. Call today.
Full-Service Flood Cleanup and Mold Removal in San Jacinto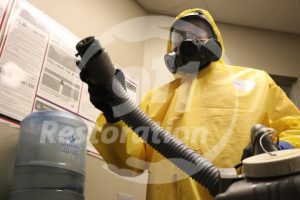 Make a full recovery from a flooded basement, pipe burst, or even a mudslide with 911 Restoration. Our expert water damage restoration crew is standing by at this very moment, ready to be on the scene in 45 minutes or less.
Speed is essential when it comes to flood cleanup. Lingering moisture can cause a wide range of structural problems. Our goal is to get all water off your property as quickly as possible to avoid costly damages. 
In addition to water removal, our water damage restoration workers provide packing and storage services to protect valuable belongings during cleanup. They also handle emergency services such as boarding up, storm repair, roof repair, and leak detection. After flood cleanup, they dry the area using professional blowers and sanitize as needed. If you have any damage such as buckling structures or rotted drywall, they take care of repairs themselves.
Mold removal (link) is also part of our water damage restoration process. Pipe bursts and storm damage often lead to mold contamination. Our technicians understand that any neglected colony can cause serious damage in the long-run. Fungus also poses a significant threat to your own health and wellness.
Turn to our mold remediation crew any time you suspect you have an infestation. Our mold removal experts conduct a thorough mold inspection, then handle cleanup using safe, effective methods. Their mold remediation process includes structural dehumidifying to discourage a repeat infestation. They even take care of repairs for any stained or damaged surfaces.
If you need mold remediation or water damage restoration in San Jacinto or the surrounding area, don't settle for basic cleanup. Call 911 Restoration of Temecula and enjoy a Fresh Start.
Get Through Fire and Smoke Damage with Peace of Mind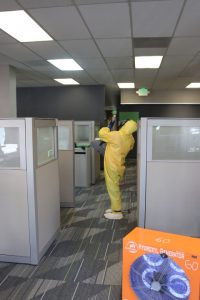 Fire damage makes your property look completely destroyed. Smoke damage leaves a foul odor and the feeling that your home or business is permanently contaminated. But 911 Restoration of Temecula offers a ray of hope.
Our compassionate fire cleanup technicians are here to provide comprehensive fire restoration and immediate peace of mind. They take care of every aspect of cleanup and smoke removal. Our crew cleans your dishes and furniture. They use soda blasting for soot and smoke removal. The fire restoration staff even provides permanent odor removal, no matter how extensive your smoke damage may be.
If your home or business is soaked by water from the fire hose, our experts cover flood cleanup and mold remediation. Then, they completely repair and rebuild all destroyed structures, from your drywall to your roof.
Throughout the entire fire restoration process, they provide a sense of calm. Our fire cleanup technicians work with transparency, eagerly address your concerns, and guide the way to a Fresh Start.
Fire damage is not the end for your property. It's a new beginning. 
Call now.