Water Damage and Mold Removal in Menifee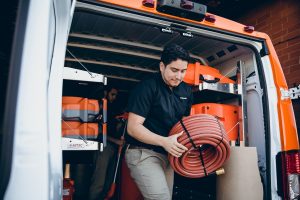 Whether you're dealing with a pipe burst, flooded basement, or any other emergency disaster, help is only 45 minutes away.
911 Restoration provides full-service water damage restoration, fire cleanup and mold removal in Menifee and the surrounding area. Our emergency technicians are on standby 24 hours a day, 365 days a year. We guarantee an arrival time of 45 minutes or less so you're never left waiting and worrying.
We know how important your property is to you. It's not just your greatest financial asset; it's the embodiment of your hard work and dreams. You can trust our flood cleanup and fire restoration technicians to treat your home or business as if it were their own.
Our crew also treats you like a neighbor. As a locally owned and operated business, we see you as a valued member of our community. Count on 911 Restoration of Temecula for clear communication, compassionate service, and high standards. All our staff members are highly trained and IICRC certified to provide the best service. They are true experts in everything from cleanup to structural repairs and mold remediation. When you call us, you won't have to hire any additional contractors. We do it all.
At a time like this, a little clarity can provide major peace of mind. That's why we offer a free visual inspection (for property owners only). You can also take advantage of our free insurance consultation. A member of our staff explains your coverage in clear terms and even helps you file a claim.
911 Restoration of Temecula is licensed, insured, and bonded. We serve both residential and commercial properties.
For a Fresh Start after water, mold, or fire damage, call us today.
Comprehensive Flood Cleanup in Menifee and Beyond
At 911 Restoration, we believe quality water damage restoration should be about more than water removal. Our goal is to make your property brand new after even the most devastating pipe burst or property flood.
Our highly trained flood cleanup technicians handle any crisis, from flooded basements to mudslides. Turn to us for: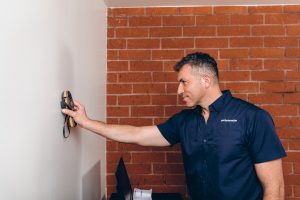 Sewage extraction
Sanitization
Water removal
Emergency boarding up
Roof repair
Storm repair
Leak detection
And much more
Once our water damage restoration crew eliminates all water from your home or business, they bring in professional fans to dry the structure to its core. Then, they test for structural damages. If your pipe burst or property flood was especially extensive, you could have permanent issues such as rotting, buckling, or structural weakness. As part of our mission to give you a Fresh Start, our flood cleanup crew handles all necessary repairs personally.
We also offer a mold inspection after water damage restoration or as a standalone service. Mold develops quickly after any water incident, but it's especially common after a flooded basement. If you don't get mold removal right away, a small infestation today could turn into serious destruction down the road. To prevent this, we make sure all our water damage restoration professionals are trained and certified to perform mold removal.
These experts handle mold remediation using the safest and most effective procedures. They even handle black mold removal. Then, they dehumidify the structure where the infestation grew. This helps prevent future growth.
At 911 Restoration of Temecula, we think of everything so you can focus on moving forward. Call us today for the service you deserve.
The Best Choice for Expert Fire Cleanup and Smoke Removal
We're proud to be the top choice for fire and smoke damage restoration. Our hardworking fire cleanup crew sets themselves apart with compassionate customer care and a high standard of service. We also prepare every member of our fire restoration staff to handle all aspects of recovery. When you're recovering from a fire or a puffback, the last thing you need is to have to juggle multiple contractors. We do it all so you only have to make one call to recover from fire damage.
Fire restoration and smoke removal may require a wide range of services depending on the needs of your unique situation. In most cases, our technicians use sodablasting to handle odor, soot, ash, and smoke removal. They also include your furniture and dishes in their smoke removal efforts to make your entire home or business shine again.
911 Restoration of Temecula is more than a fire cleanup company. Our technicians handle all necessary property repairs, from your roof to your floorboards. They even have you covered if the fire department flooded your property. These experts take care of flood cleanup, structural drying, and mold remediation.
Fire damage can feel like a nightmare, but with 911 Restoration on your side, this is your opportunity for a Fresh Start. Call us today for fire restoration in Menifee and the surrounding area.
Servicing the cities of Murrieta, Temecula, Menifee, Hemet, Lake Elsinore, San Jacinto, Wildomar, Sun City, Quail Valley, Homeland, Winchester, and surrounding areas.