Water Damage and Mold Removal in Murrieta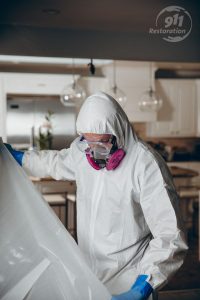 As beautiful as life is in Southern California, our climate comes with plenty of pitfalls for property owners. Between earthquakes, landslides, and wildfires, homes and businesses are at constant risk of disaster. Add common incidents like pipe bursts, sewage backups, and mold contamination, and one thing is certain:
You need a restoration contractor you can trust.
911 Restoration of Temecula provides full-service water damage restoration, fire cleanup, and mold removal in Murrieta and beyond. You can reach us 24/7/365 and count on our technicians to arrive in 45 minutes or less. Our IICRC certified staff is fully trained and highly skilled in all aspects of property repair. Whether you need water removal or smoke removal, roof repairs or mold remediation, we have you covered.
We serve both homes and businesses throughout the region, offering compassionate care for our neighbors in need. As a locally owned and operated business, we care about preserving and protecting all properties in our community. That's why we accept all types of insurance and provide a free insurance consultation. We want to make sure you are able to go into the flood cleanup or fire restoration process with clear expectations. An expert on staff explains your coverage and assists with claim filing. We also bill your provider directly so you can focus on recovering from your pipe burst or other disaster.
911 Restoration of Temecula is licensed, insured, and bonded. We offer a free visual inspection (for property owners only) and are eager to answer any questions you have. Our goal is to give you peace of mind and a Fresh Start after any disaster.
Call us today.
Certified Flood Cleanup and Mold Remediation Contractor
911 Restoration of Temecula is the top choice for mold removal and water damage restoration in Murrieta. We earned our good reputation through prompt service, quality repairs, and honest communication.
Whether you're dealing with a pipe burst or a flooded basement, our flood cleanup techs respond with urgency. Our crew is on call 24/7, and they arrive in 45 minutes or less, guaranteed. They recognize that every flooded basement or water damage episode is a full-blown emergency. A swift response is crucial for minimizing damages and limiting costs.
You can count on 911 Restoration for a wide range of water damage restoration services, including: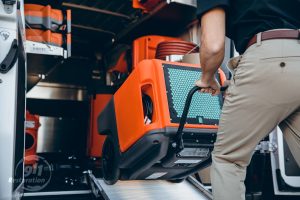 Water removal
Sewage backup cleanup
Emergency boarding up
Storm repair
Roof repair
Leak detection
Structural drying and dehumidifying
Sanitization and disinfection
And much more
Our water damage restoration experts also handle property repairs and carpet removal. We make sure you only have to call one contractor to make a full recovery from a pipe burst or any other water-related incident.
Take advantage of our certified mold inspection service. Our flood cleanup workers offer a mold inspection after water damage restoration or as a standalone service. If you suspect you have an infestation, don't delay. Without immediate mold removal, fungus can spread throughout your property. The longer mold lingers, the worse your structural damages will be. Not to mention, toxigenic varieties such as black mold can be dangerous to your health.
Our certified mold remediation specialists provide an extensive inspection and safe, reliable mold removal. They also treat the structure where fungus grew to prevent a recurrence. Finally, if you require repairs for mold damage, our mold remediation experts handle that, too.
In any disaster, you can count on 911 Restoration of Temecula for fast service and a Fresh Start. Reach out today.
Full-Service Fire Restoration in Murrieta
Turn to 911 Restoration of Temecula for a full recovery from fire and smoke damage.
We have a highly trained fire cleanup crew prepared to handle all aspects of fire restoration. They provide sodablasting and other smoke removal techniques. They clean smoke damage from your dishes and furniture. Our fire restoration experts handle all structural repairs, and they even manage flood cleanup if the fire department soaked your property.
Along the way, our fire cleanup specialists provide clear answers and peace of mind. At 911 Restoration, we understand how devastating a fire or puffback can be. Your mind must be flooded with worry. Our fire damage workers do all they can to provide clarity and direction. This includes a free fire damage assessment to help you weigh your options and get a sense of the restoration timeline. They also offer a free insurance consultation and filing assistance. Beyond these formal services, feel free to ask our fire cleanup team any questions at any time. Consider us your fire information center.
Believe it or not, it is possible to have a clean, strong property after fire and smoke damage. Just call 911 Restoration of Temecula for a Fresh Start.
Servicing the cities of Murrieta, Temecula, Menifee, Hemet, Lake Elsinore, San Jacinto, Wildomar, Sun City, Quail Valley, Homeland, Winchester, and surrounding areas.