Fire & Smoke Damage Restoration in Temecula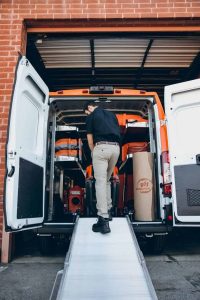 If you've recently had a property fire, you don't need multiple contractors to make your home or business the beautiful space it once was. You only need 911 Restoration of Temecula.
Our fire restoration crew in Temecula is IICRC certified and trained to handle everything you need for a Fresh Start. These workers are experts in smoke removal, odor removal, soot and ash cleaning, and structural repairs. They even take care of flood cleanup if your property has been soaked by the fire department. No matter what it takes to make your home or business brand new, our fire cleanup crew gets it done.
We serve both commercial and residential properties with fire damage restoration in Temecula, Murrieta, Sun City, and beyond. 911 Restoration is insured, licensed, and bonded. We are backed by the resources and reputation of a nationwide company, but your Temecula branch is locally owned and operated. We're not just a fire and smoke cleanup company. We're your neighbors, here to see you through this disaster.
At 911 Restoration of Temecula, we understand what you're going through. You've worked hard to make your home or business a place of beauty and peace. Fire and smoke damage make all that effort feel like it was for nothing. You may feel lost and overwhelmed. Know that you're not alone. Our fire cleanup and smoke removal crew is here to provide solutions as well as clarity. We provide a free fire damage assessment (for property owners only) and a free insurance consultation. Our fire damage restoration staff helps you set expectations for the road ahead, from the cost of recovery to the amount of time it will take to make your property new again.
This may feel like your darkest hour. But with 911 Restoration of Temecula on your side, it's really a new beginning. Call now for expert smoke removal, odor removal, and fire restoration.
Compassionate Fire Damage Restoration and Smoke Removal in Temecula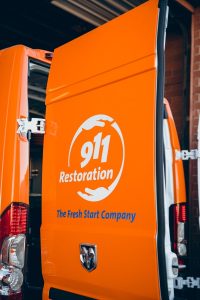 When you call 911 Restoration for fire damage restoration and smoke cleanup, you can count on us to put your needs above all else.
We know how stressful a fire or puff back is. Our fire cleanup staff puts your mind at ease with clear communication. You always know what they're doing, why they're doing it, and why it's the best thing for your property.
We begin with a free fire damage assessment, explaining your options for recovery in clear terms. Then, our fire restoration technicians pack out and store any belongings that were spared in the fire. This is to avoid any accidental damage during soot and smoke removal.
Our fire cleanup staff cleans all surfaces in your property, including your dishes. They handle smoke cleanup and odor removal for your furniture. The workers also use soda blasting for soot, ash, and smoke removal.
Structural and surface repairs are key to our fire restoration process. We take care of everything so you don't have to juggle contractors. From roof repair to carpet replacement, you can count on our fire cleanup crew.
You don't even have to bring in another company to deal with fire hose flooding. Our fire restoration experts are certified in water damage restoration. They eliminate the water, dry the space, and even tackle mold removal inspection and remediation.
When you work with 911 Restoration, all your bases are covered. Call us for full-service fire cleanup in Temecula, Menifee, San Jacinto, and the surrounding area.
Clear Answers and a Fresh Start After Fire Damage
Odor removal and smoke cleanup are only half the battle when it comes to fire restoration. As a property owner, you're probably weighing countless considerations and concerns. You want to know how long it will be before you can sleep in your home again or re-open your business. You want to know if your property will ever be the same. Above all, you'd like some idea of what this is going to cost.
Our fire restoration staff understands that simply having answers can ease your mind. When you know what to expect, you know how to prepare. That's why we're available to you 24/7, ready to address all your concerns and answer your most pressing questions. Consider us your fire information center.
We provide a free fire damage inspection in Temecula right now (for property owners only). Through this zero-obligation service, a fire damage restoration specialist examines your property and lays out a clear strategy for recovery. They explain what it will take to make your home or business new again. You get a sense of the timeline and have an opportunity to consider different options.
Then, a fire restoration expert reviews your insurance policy and explains your coverage clearly. You learn which services your provider pays for, from smoke and odor removal to drywall repair. This service is completely free. We also assist you with inventory and loss itemization. A member of staff files a claim for you and we bill your provider directly.
If you've just endured a property fire, you need more than fire cleanup. You need a trusted ally and a compassionate neighbor. 911 Restoration of Temecula checks all the boxes.
Call now for peace of mind and a Fresh Start.