Water Damage and Mold Removal in Hemet
I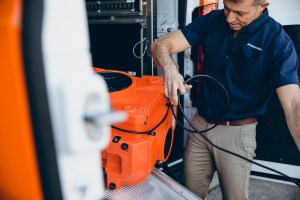 f you need water damage restoration, fire cleanup, or mold removal in Hemet, you need 911 Restoration of Temecula.
Our IICRC certified crew is highly trained to handle any property disaster, from pipe bursts to mudslides. They are available 24/7/365, and when you call, they're at your door in 45 minutes or less… guaranteed.
At 911 Restoration, we are committed to providing the highest quality of service for our neighbors. As a locally owned and operated business, we value you as an important member of the community we love. Our flood cleanup and fire restoration technicians serve you with compassion and focused attention. They do whatever it takes to make your home or business new again. Whether you need sewage extraction, fire cleanup, or extensive structural repairs, you can count on 911 Restoration.
We serve both homes and businesses in Hemet and throughout the surrounding region. 911 Restoration is licensed, insured, bonded, and backed by the resources of a nationwide company. In addition to providing practical services, we strive to be your best source of information in any crisis. We invite you to bring us all your water, mold, and fire restoration questions, big or small.
Turn to us for a free visual inspection (for property owners only). An expert on staff will take a look at your property and outline your options for restoration. You may also benefit from our free insurance consultation. If you're not sure whether your provider covers water removal after a pipe burst or smoke removal after a puffback, we'll figure it out for you. We even offer assistance with inventory and loss itemization, claim filing, and directly billing.
No matter what your current property nightmare is, you don't have to get through it alone. Call 911 Restoration for the expert attention you deserve.
A Fresh Start After a Pipe Burst or Property Flood
Your property can be the same after water damage. In fact, it can be good as new with comprehensive water damage restoration from 911 Restoration of Temecula.
We're more than a flood cleanup company. We're a full-service restoration contractor staffed by true experts who know how to provide a Fresh Start for properties in crisis. Call us at any hour of the day or night, and our flood cleanup technicians will be there in 45 minutes or less.
When our water damage restoration workers arrive, they work quickly to clear out the water and minimize damages. They pack out and store any items that may be in harm's way and begin water removal as quickly as possible. You can also count on our flood cleanup experts for property repairs, including roof repair, storm repair, and emergency boarding up. They fix weakness or buckling in the structure of your home or business. Then, they complete water damage restoration with a mold inspection and mold removal.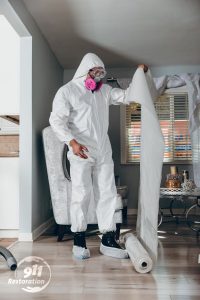 Mold is a major concern for many property owners in Hemet and throughout Temecula. Fungus develops quickly after any water-related incident, whether it's a flooded basement or a simple wall leak. It's absolutely essential that you receive mold removal services from a trained professional as quickly as possible. The longer you go without mold remediation, the more likely fungus is to grow and spread throughout your property. This can mean serious damage to your home or business and be a major threat to your health.
Our mold remediation experts want to avoid these problems. They offer a thorough mold inspection to ensure no growth goes unnoticed. They use the latest and most effective techniques to handle mold removal completely. Our mold remediation crew even dehumidifies the structure to prevent future growth.
Whether you need mold remediation or water damage restoration in Hemet, the choice is clear. Call 911 Restoration of Temecula for comprehensive flood cleanup and a Fresh Start.
Residential and Commercial Fire Cleanup in Hemet
No matter what type of property you own, you can count on 911 Restoration for expert fire restoration and smoke removal. Our IICRC certified fire cleanup crew takes care of everything you need to fully recover from fire and smoke damage.
Your dedicated fire restoration crew begins by packing out and storing your unharmed belongings. This ensures those items stay safe during fire damage cleanup.
Smoke removal may vary depending on the needs of your situation. In most cases, our technicians use sodablasting to clean soot and smoke damage from surfaces. They also oversee smoke removal for your furniture and dishes. Our experts eliminate all odors permanently and repair every damaged structure, no matter how extensive the destruction is.
Along the way, our fire damage restoration workers offer clear communication and genuine compassion. We know how overwhelmed you are at a time like this. Our goal is to offer peace of mind and a bright new beginning. Call 911 Restoration for full-service fire damage restoration.
Servicing the cities of Murrieta, Temecula, Menifee, Hemet, Lake Elsinore, San Jacinto, Wildomar, Sun City, Quail Valley, Homeland, Winchester, and surrounding areas.