Water Damage and Mold Removal in Sun City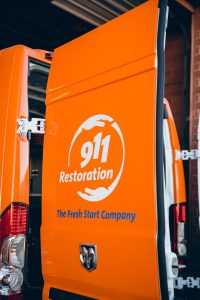 When disaster strikes, turn to 911 Restoration.
We provide emergency restoration 24 hours a day, every single day of the year. When you reach out, our dedicated restoration crew is there in 45 minutes or less. We serve homes and businesses in Sun City and throughout the surrounding region. 
If you're wondering whether we can handle your property disaster, the answer is yes. Our expert technicians handle it all:
Water damage restoration

Sewage cleanup

Fire damage restoration

Mold inspection

Mold remediation

And much more
From wildfires to pipe bursts to mudslides, we are always available to offer fire restoration and flood cleanup in Sun City. Our workers take care of everything you need to make a full recovery, including structural repairs and mold remediation. We train our team in every aspect of property restoration so you never have to juggle contractors.
911 Restoration of Temecula is licensed, insured, and bonded. Our staff is IICRC certified, and the business is locally owned and operated. We consider you a neighbor, and you can expect to be treated like one.
Our goal is to provide peace of mind in addition to quality restoration service. We do this by offering clear answers to all your most pressing questions. Call us for a free visual inspection (for property owners only). A member of our staff is happy to take a look at your water, mold, or fire damage. They work with you to determine the best path forward for you and your property. 
Once our expert suggests a restoration strategy, we invite you for a free insurance consultation. Our staff clarifies your insurance coverage so you don't have to play phone tag with your provider just to find out if you're covered for smoke damage. You can also turn to our team for assistance with inventory and loss itemization. We file your claim for you and bill your provider directly.
You have plenty of options for flood cleanup and mold removal in Sun City. But only one contractor delivers immediate peace of mind and a Fresh Start. Call 911 Restoration of Temecula today.
Flood Cleanup to Mold Removal: We Do It All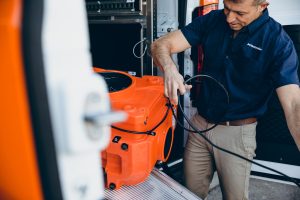 Anyone can show up at your door with a wet vac and blowers. At 911 Restoration, we go beyond basic flood cleanup to offer full-service water damage restoration and mold remediation.
Here's what that looks like.
When your call comes in, our water damage restoration crew rushes to the scene, arriving in 45 minutes or less. They pack out and store any belongings that could potentially be harmed during flood cleanup. Then they work fast to stop the flow of water and remove all moisture from your property. This process could include:
Water extraction

Sewage cleanup

Emergency boarding up

Storm repair

Roof repair

Leak detection

Structural drying

And more
After they've gotten rid of the moisture and dried the space, our water damage restoration experts look for structural damages. Pipe bursts and flooded basements may result in rotting, warping, or mold contamination. Our flood cleanup crew repairs any destruction they discover.
We make sure every member of our water damage restoration staff is trained and certified in mold removal. We consider this non-negotiable, as a fungal invasion is so common following pipe bursts, flooded basements, and similar disasters. As your water damage restoration contractor, our goal is to leave you with a solid, healthy structure. That means we cannot call the job done until mold remediation is complete.
Our mold removal experts use the safest and most up-to-date procedures to ensure effective decontamination. They include structural dehumidifying as part of the mold remediation process. This helps minimize the risk of a repeat infestation. As they do with all restoration services, our mold removal handles any repairs needed for a Fresh Start.
When a pipe burst soaks your property, don't panic. Just call 911 Restoration of Temecula for the best mold remediation and  water damage restoration in Sun City.
Fire Cleanup and Smoke Removal in Sun City
When a property fire destroys the home or business you've worked so hard to maintain, it can feel like all is lost. Our fire restoration and smoke removal technicians promise to make your property brand new again.
Our services are comprehensive and cover a wide range of fire damage and smoke removal needs. We offer full-service fire cleanup, puffback cleanup, and even handle odor and smoke removal for spaces tainted by cigars or cigarettes. 
Every member of our IICRC certified fire restoration staff is trained to handle the entire fire cleanup process. That includes sodablasting, smoke removal for furniture and dishes, and permanent odor removal. They also repair every fire damaged structure, from your roof to your floors.
When you call 911 Restoration for fire cleanup, you always know what's happening to your property and why. Our technicians communicate clearly and treat your property as if it were their own. We invite you to think of us as your fire information center. Call us day or night with your fire and smoke damage questions.
You don't have to go through this alone. Call 911 Restoration for your best ally in fire cleanup.