Water Damage and Mold Removal in Quail Valley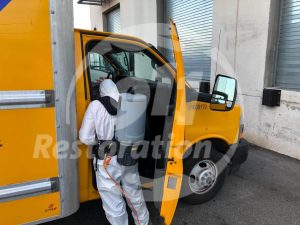 911 Restoration of Temecula provides flood cleanup and emergency restoration 24/7/365. If a pipe bursts in the middle of the night, we're there. If you find yourself dealing with a flooded basement at noon on Sunday, we're there. Call us any hour of the day or night, and our technicians will be at your door in 45 minutes or less… guaranteed.
At 911 Restoration, we're not just fast; we're thorough. We offer full-service water damage restoration, fire cleanup, and mold removal in Quail Valley and the surrounding area. Every expert on our IICRC certified crew is highly skilled in all aspects of property restoration. From smoke removal to drywall replacement, they do it all. 911 Restoration is the contractor to call for a Fresh Start.
As a locally owned and operated business, we see you as a neighbor. We value your property as an important element of our beautiful community. Trust our dedicated staff to treat your home or business with respect it deserves. They serve you with compassion, eager to provide clarity and peace of mind. 
Take advantage of our free visual inspection (for property owners only) and our free insurance consultation. Both services are offered free of charge and free of obligation, so you can make the right decision for your property and your budget. 
We are licensed, insured, bonded, and part of a thriving nationwide company. 911 Restoration of Temecula serves both residential and commercial properties in the local area. 
For fast, reliable service, call 911 Restoration today.
24-Hour Water Damage Restoration in Quail Valley
Every water incident is an emergency and requires immediate water damage restoration. From ceiling leaks to pipe bursts, any water on your property can cause serious long-term damage. That's why our flood cleanup workers are here for you 24 hours a day, every single day of the year. Call us for:
Leaks

Washer machine floods

Sprinkler malfunctions

Sewage backups

Mudslides

Storm damage

Flooded basements

Pipe bursts

Water seeping up from the floor

And any other water-related incident
Our flood cleanup crew arrives in 45 minutes or less and works at top speed to remove all water or sewage. After flood cleanup, they sanitize your space as needed and bring in professional fans to dry the structure thoroughly.
At 911 Restoration, we believe in providing our customers with a Fresh Start. With this goal in mind, we train all our water damage restoration workers to handle all needed repairs. After an incident like a pipe burst, you may have rotting floorboards or buckling structures. Our flood cleanup staff repairs and replaces every compromised material.
We also offer a professional mold inspection and mold removal. You can call us for this service even if you have not recently had a water damage incident. Mold is a serious issue. The longer a colony is left to thrive without mold remediation, the more likely you are to incur serious damages. Fungus eats away at the structure of your property and releases dangerous particles into the air you breathe.
Resist the temptation to handle mold removal yourself. Scrubbing at an infestation puts you in direct contact with mycotoxins and other hazardous particles. Carpet steaming may eliminate current growth, but it also creates a damp environment for the spores left behind to start a new colony.
The safest option is to hire our certified mold remediation crew. Our workers are all trained in the most effective mold removal techniques. They inspect your property thoroughly to ensure all growth is eliminated. Our mold remediation team also dehumidifies the structure where fungus grew to prevent a new infestation.
From flood to fungus, put your trust in 911 Restoration of Temecula.
You Only Need One Contractor to Recover from Fire Damage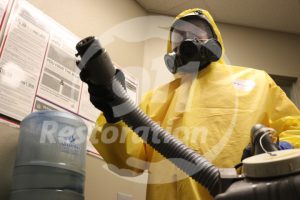 Fire restoration may feel like a massive and complicated undertaking. The truth is, you only have to do one thing to make your home or business new after fire and smoke damage:
Call 911 Restoration of Temecula.
Our team of fire restoration experts handle everything else from there. This crew takes care of packing out and storing your unharmed belongings to keep them safe during fire cleanup. They use sodablasing and other cutting edge methods to perform soot, ash, and smoke removal on surfaces. They provide permanent odor removal and clean all smoke damage from our furniture and dishes. Our fire restoration staff even manages water damage restoration for flooding caused by the fire department.
After all the initial fire cleanup and smoke removal services are complete, our crew tackles structural repairs. It doesn't matter if you need new drywall or a patched roof. Our fire damage restoration workers do it all. 
Throughout the process, you can count on our staff to serve as your fire information center. Turn to us for a free fire damage assessment and a free insurance consultation. It may not be clear whether your provider covers sodablasting, smoke removal, or other services. We find out for you and explain your coverage in clear terms. Then, we assist with inventory and loss itemization and file a claim on your behalf.
This is only a temporary setback. Let us turn it into a Fresh Start.
For expert fire restoration in Quail Valley and beyond, call 911 Restoration of Temecula.