Winter Home Maintenance Checklist – Keeping Your Home Safe During Christmas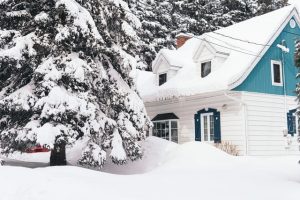 Winter is coming, whether you're ready or not. So why not get ready for it?  You may have already noticed a drop in temperature. Hence, it's best that you start preparing for it.  As hot summer days give way to chilly autumn temperatures, it's a good time to start planning for the colder months ahead, especially as weather extremes grow more prevalent throughout the world.
It may require some time to prepare for home safety during winters, but it will definitely be worth it. And many of the greatest steps are simple and free. Create a winter home maintenance checklist with these maintenance, improvements, and repair suggestions so you can enjoy those chilly days warm and toasty.
1.     Look For Leaks and Drafts
Leaks and drafts that enter via holes in walls, doors, and windows can hinder adequate heating and raise energy expenses. If your energy provider does not provide a home energy audit, conduct one yourself. Here are a few methods for preventing leaks and draughts:
To keep the inside warm, you should use plaster, styrofoam, or weather seal tape around movable windows and doors.
You should seal the windows that you will not be used by applying a window insulation kit or bubble wraps.
To decrease heat loss at your home's entrance, install a storm door.
Add attic insulation to reduce heat loss via the ceiling.
Replace draughty wood doors with ones that are constructed of steel or fiberglass.
Insulate mail openings and pet entrance flaps with thick towels, which will help to keep the warm air inside and the cold air outside.
Use curtains on the windows, open them up throughout the day to let in heat and light and close at night to ensure heat stays in.
2.     Get Your Chimney Checked
Have your chimney or flue examined and cleaned by a professional before using your fireplace or wood stove for heating. This technique can help to avoid chimney fires, which cause approximately 20,000 home fires each year. A clogged chimney or flue can significantly raise your risk of becoming ill from carbon monoxide poisoning. Remember to replace the batteries in your smoke and carbon monoxide detectors.
You might lose vital heat through an open fireplace if you have a nonworking or ornamental fireplace. Spending on a chimney balloon can help keep heat in the atmosphere, preventing heat loss and keeping the chilly winter wind from entering. Just remember to take it out if you need to light a fire later.
3.     Get Your Furnace Checked As Well
Much like your chimney, you should get your furnace examined once a year as well. Imagine realizing that your furnace is not operating correctly right at the moment when you need it.
Got the chills? You will have real ones if you do not opt for an early check! It will give you enough time to replace it before winter arrives. You must also think about getting the air ducts serviced or doing it yourself.
To maintain your furnace's functionality and ensure smooth running, make sure to replace your furnace filters regularly.
4.     Use Ceiling Fans With Reverse Blades
Ceiling fans are not only for keeping cool during the summer; they may also be useful in the winter. If you have ceiling fans in the house, you should rotate the blades according to the weather for the greatest effects.
In hotter months, make sure to keep the blades of your ceiling fans rotating counterclockwise, forcing cold air downwards. During winters, turn the blades so that they move clockwise, which will help you to draw warm air downwards, keeping you warm.
5.     Cover Your Flooring
Although wood, laminate, and tile flooring look wonderful, they might cause heat loss in the cold. Consider putting rugs or laying carpet above your flooring as one of your winter home maintenance checklists to control the heat flow and stay comfortable in your house without heat loss.
6.     Prepare for the Storms and Emergency
Keep an eye on the weather predictions, so there is enough time to prepare if a winter storm is on the way. Make sure your car and house emergency kits are always good to go and that your car's servicing has been done properly. Keep the petrol tank full, so you do not worry about that at times of emergency.
If someone doesn't have a generator, now is a good time to get one. They can protect your home by keeping it warm until the electricity gets restored.
Conclusion
The Winter season is often harsh on every house, and you wouldn't want to clean or restore it after it has been damaged. Instead, add these very simple steps to your winter home maintenance checklist and do it well before the frost sets in.
You need to insulate your exposed pipes, so they do not burst during the low temperature.
Check that your sewage system is working correctly and that nothing is obstructing the outside drain.
Seal up the walls and roofs properly to avoid condensation and moisture in your house, which may result in mold growth.
Clean your gutters and make sure there is no ice, roots, trash, or any other element that may result in your gutter collapsing.
Shut off the pipes and water faucets outside your house and insulate them so you do not have to face any water leakages.
Following this winter home maintenance checklist will help you stay warm, avoid winter damage, and reduce your power bills. 911 Restoration of Temecula is here to help you maintain your house for the upcoming extreme weather and is just a call away at times of emergency. We hope this checklist will be a good asset for your winter preps!