Halloween Fire Safety Tips: How to Prevent Fires at Your Workplace Party?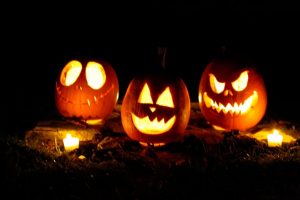 Some of the spookiest things at a workplace Halloween party aren't the scary costumes or creepy decor. It's the potential fire hazards that surround workers in the form of Jack-o-lanterns, lit candles, paper ghosts, and dried cornstalks. Knowing this, the National Fire Protection Association (NFPA)  shared Halloween fire safety tips to keep in mind during the festivities.
Here's how you can prevent fire hazards at Halloween:
Give Jack-o-Lanterns a Makeover
When it comes to Halloween fire safety tips, jack-o-lanterns always make the list. Experts advise against lighting carved pumpkins with candles. This practice eliminates open flames at the party. Consequently, minimizing the risk of fire hazards present at your workplace.
Fortunately, you can adhere to this rule without sacrificing your patterned pumpkins. The trick is to swap candles with LED counterparts. It works because the battery-operated lanterns are less likely to spark a fire at the event.  You can even use it as an excuse to use colorful candles like fiery red or eerie greens. Use these alternative lanterns to create a spookier vibe.
Be Mindful of Your Decor Choices
Workplaces are often decked with paper ghosts, dried cornstalks, and bales of straw at these parties. At the same time, driveways are lit with jack-o-lanterns and candles to create that spooky vibe.  You might even throw in dried flowers and paper lanterns for the festive look.
However, Halloween fire safety tips advise you to rethink these types of decorations. The NFPA argues that it doesn't take long for these flimsy and flammable pieces to get blown off into a candle. The fact that most decorations are strung together causes the flames to spread rapidly.
Therefore, you must look for alternative flame-resistant decorations for your event.
If this seems impossible, you should try to place them away from heat sources. These include open flames, heaters, and bulbs.
Apart from this, your presentation and arrangement style can also create a problem. For example, dangling decors and big cardboard displays can obstruct fire exits. This blockage can prevent attendees from getting out of the room safely in case of an emergency.
Create a Fire-Proof Dress Code
Planning a costume party can be a fun way to let the staff celebrate the festive occasion. The only trouble is that billowy costumes with trails, capes, and dangling embellishments can ignite as soon as they come in contact with an open flame.
You can reduce fire hazards by discussing a fire-safe dress code beforehand. For instance, ask employees to avoid wearing costumes made of flammable fabric (i.e., cotton, polyester blends, rayon fibers, and acrylic). They can opt for woolen, nylon blends, and 100% polyester fabrics instead. Even then, organizers should steer clear of open flames and stick to battery-operated lights/lanterns instead.  This reduces the risk of potential fire injuries and burns at your party.
Bonus Halloween Fire Safety Tips
Moreover, you shouldn't forget everyday fire safety practices during the festive season. Think of ways to make your workplace safer before and after the event. That way, your place will be completely secure for the team.
Here are some other fire prevention tips to follow:
Ensure that your fire alarms are working and replace batteries if required
Don't let power cords and wires get tangled during the event
Make sure all the lights and sound equipment is working properly to prevent electrical fires
Prepare your team for the unexpected by organizing routine fire drills
Place portable space heaters and gas heaters away from flammable decor and upholstery
Unplug computer systems and appliances not being used for the duration of your event
When in doubt, ask NFPA consultants for support or use their online resources to ensure that your arrangements align with mandatory fire safety codes.
Why Are Halloween Fire Safety Tips for Workplace Parties Important?
Fires can spread quickly and rapidly. They are fueled by decorations, flammable furniture, and clothes. Therefore, ignoring fire safety can lead to costly property loss due to fire damage and water damage. Attendees can sustain mild to severe burn injuries too.
Your workers can use this as a reason for filing a personal injury claim if an accident does occur. Implementing Halloween fire safety tips can reduce the risk of such a situation.
More importantly, it ensures that everyone at the party has a good time.
Parting Words
In short, Halloween fire safety tips play a pivotal role in determining the success of your seasonal corporate event. It's time to drop traditions and switch to fire-safe alternatives that protect your office building and your team. If things do get out of control, you can count on the 911 Restoration of Temecula to come and save the day.
Need Help?
Our trained team provides effective commercial restoration solutions to overcome smoke and fire damage. It includes soot removal, sanitization, and deodorization treatments. Later on, we repair and replace structural elements and furniture that got damaged after the fire. Additionally, we offer water restoration and mold remediation services to prevent potential risks.
Best of all, we run a 24/7 operation. It ensures fire damage restoration experts can reach you within 45 minutes of the accident. We also offer insurance support to help you receive some form of reimbursement to restore your building.
You can contact us at (951) 268-1125 for fire emergencies.