Covid 19 Cleaning Services in Temecula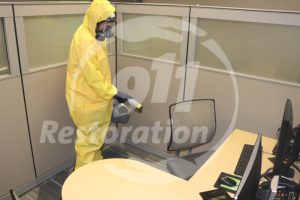 Even as the guidelines concerning Covid 19 cleaning services change from day to day, one thing remains certain: the threat of this pandemic is ever-present. Someday, we will find a lasting solution to coronavirus, but in the meantime we must be vigilant. We must band together as a community and do all we can to act in the best interest of ourselves and our neighbors. This includes adhering to social distancing standards, maintaining strict personal hygiene, and keeping our homes and businesses sanitized.
In your day-to-day life, you may encounter several conflicting reports regarding coronavirus. There are many rumors circulating that have not been proven and do not come from reliable sources. Before following any new advice regarding coronavirus, check reputable sources like the Centers for Disease Control website.
Take precautions to protect yourself and your family from the spread of temecula coronavirus. Remember that you can carry and spread the virus even if you do not exhibit symptoms. Senior citizens and individuals with pre-existing medical conditions are especially vulnerable to severe infection and even death. For their sake, please behave as though you could be contagious. Wear a cloth face covering in public spaces, stay home as much as possible, and wash your hands frequently.
Property disinfection is especially crucial at this time. If you own a home, maintain a regular routine for sanitizing high-touch surfaces such as countertops, doorknobs, and television remotes. If a member of your household is at increased risk of severe complications from coronavirus, provide a protected space for them. Other family members should avoid entering this space without gloves or masks.
Achieve Peace of Mind during this Pandemic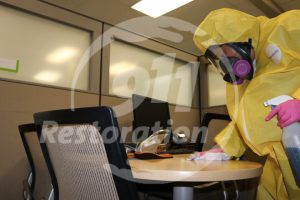 Business owners have an especially heavy burden to carry regarding property sanitization. Whether you own a busy retail space or a small office, people from all walks of life pass through your building. It has never been more important to provide peace of mind for both your employees and your guests with an established routine of Covid 19 cleaning services.
911 Restoration of Temecula is here to help. We know how confusing this time is for many business owners. We also recognize the stress you're under. Many businesses are dealing with a decrease in foot traffic, and the responsibility of disinfecting your commercial facility is another item on a long list of worries. Our sanitization technicians are here to take that concern off your plate. With thorough disinfection services, our crew helps you demonstrate your commitment to staff and customer wellbeing. All our workers are trained to follow EPA and CDC protocols. We serve businesses and residences in Temecula, Murrieta, Menifee, and throughout the region. Our deep cleaning technicians do it all, from office sanitization to residential disinfection.
These are challenging times, but we will get through it as a community. In the meantime, 911 Restoration of Temecula is here to offer support, guidance, and comprehensive solutions. Call us when you need us.